Faith Ringgold: Story Quilts - CLASS FULL


Saturday, January 20
10 - 11:30 a.m.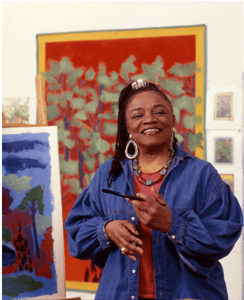 Join your child for an engaging, hands-on Mini Makers Art Class. This activity, led by Peck's expert faculty, is inspired by the popular children's author Faith Ringgold.
Ringgold, best known for her story quilts, tells stories through illustrations that combine paint and fabric instead of the traditional canvas. She also writes and illustrates children's books, most notably Tar Beach and Cassie's Word Quilt.

Designed for children ages 4-6 (and a parent), this class will celebrate and explore Ringgold's unique approach to storytelling and art making, and will be led by Peck's master Lower School visual arts teacher. Work alongside your child in creating a memory and a masterpiece in our inspiring art studio.

This event is intended for child ages 4-6 with a parent/guardian "co-creator" and is perfect for families interested in exploring the possibility of a Peck education for their child. Early registration is recommended.
This class is currently full. Please complete the form below to add your name to our waitlist and we will contact you if a space becomes available. Thanks for your interest!